2022 Ram 1500 vs. 2022 Ford F-150
2022 Ram 1500 vs. 2022 Ford F-150 in Ajax, ON
The 2022 Ram 1500 is now available at Village Chrysler, and it joins a segment with plenty of popular rivals, including the 2022 Ford F-150. Between its formidable powertrain options, rugged design, and modern cabin, the latest Ram 1500 is a compelling choice for anyone who tackles tough jobs regularly in our home of Ajax or the neighbouring Pickering, Oshawa, and Whitby, Ontario. Find out how this Ram truck measures up against the new Ford F-150 before visiting our dealership to find it among our new inventory.
2022 Ram 1500 vs. 2022 Ford F-150 Design Comparison
The 2022 Ram 1500 may be the most rugged and reliable model in its class, but this truck also boasts a refined interior allowing you to meet all your towing and hauling needs in total comfort. You can treat your Ram pickup to genuine leather and wood trim, as well as a dual-pane sunroof for those who enjoy open-air driving. In addition to its quality materials and various storage solutions - including an available, reconfigurable centre console - the 2022 Ram 1500 also offers your choice of vinyl, cloth, or leather seating, depending on your preferred trim.
As for its exterior, this new Ram pickup boasts sleek, muscular bodywork, a chiseled hood, and an aggressive grille. The 2022 Ram 1500's looks haven't undergone many major changes, but you can personalize your new truck with one of several available packages, including the GT, the Back Country, and the limited 10th Anniversary Edition.
The 2022 Ford F-150, on the other hand, boasts plenty of style points on the outside, and a practical, comfortable cabin on the inside. That said, when it comes to the design of Ram vs. Ford, the 1500 gets the edge. While the Ford F-150's cabin is inviting enough, it can't be personalized like our Ram truck, and it's a little short on refined interior materials. Contact us today at Village Chrysler for more on how the latest 1500's design tops its Ford rival's.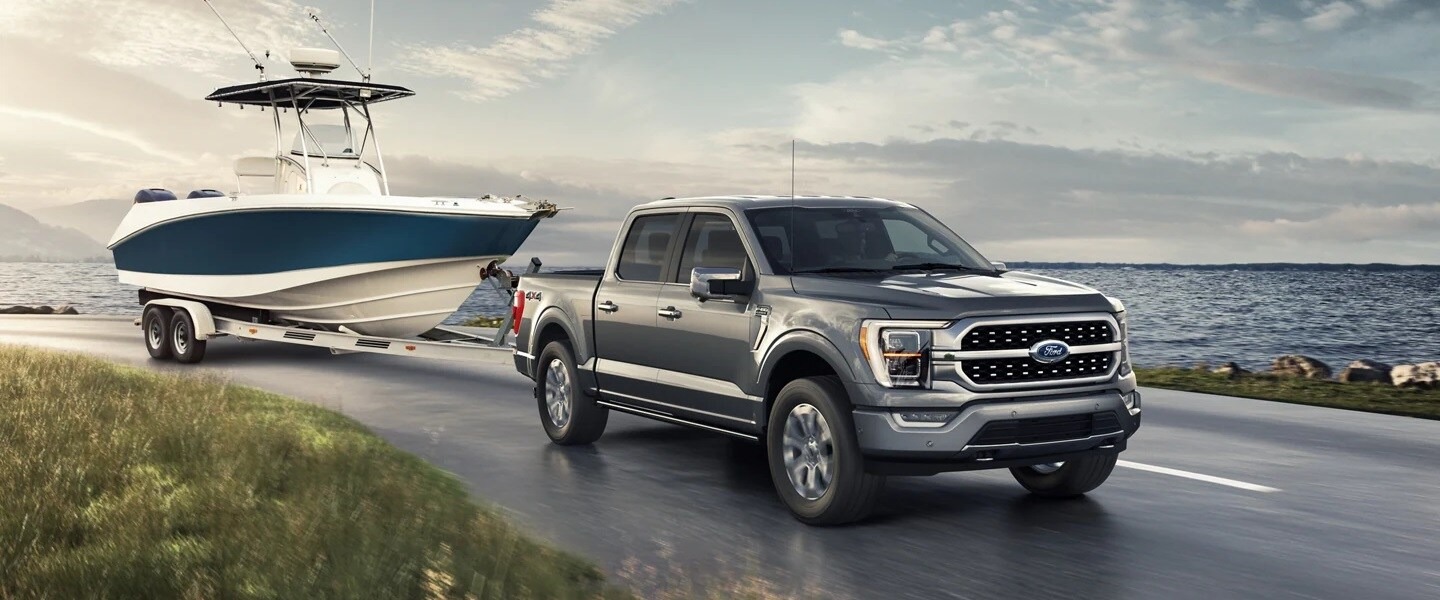 2022 Ram 1500 vs. 2022 Ford F-150 Performance & Capability Comparison
When it comes to tow jobs and braving rougher terrain, you'd be hard-pressed to find a more reliable option than the 2022 Ram 1500. True to the Ram tradition, this new pickup offers several available V6 and V8 powertrain options ranging from 260 to a best-in-class 702 horsepower. A standard eight-speed automatic transmission shifts smoothly, while an all-wheel drivetrain is offered throughout the 1500 lineup for a surefooted ride, no matter your driving conditions. In addition to its generous brawn, the 2022 Ram 1500 provides drivers with a comfortable and cushy ride, as well as excellent capability. Not only can it take on up to 2,300 pounds in its flatbed, but the Ram 1500's towing capacity ranks among the best in its segment with a maximum of 12,000 pounds.
Like the Ram 1500, the 2022 Ford F-150 offers several different powertrain options, but its range is limited compared to the 1500, as the F-150's peppiest engine packs 450 horsepower. This new Ford pickup is among the most capable in its class, but while its towing capacity is excellent, its maximum payload trails the Ram 1500's. In other words, the Ford F-150's brawn and capability are nothing to scoff at, but variety is the spice of life, and our 2022 Ram truck offers plenty of it.
Financing Options
If you'd like to leave Village Chrysler at the wheel of a new 1500 or any other model in our Ram inventory, we can facilitate your purchase in more ways than one. Whether you get approved for financing from home through our online application or contact us directly, we'll do our best to arrange an accommodating purchase agreement that allows you to enjoy your new pickup with a clear head. Drop us a line at your leisure, and we'll be happy to help.
2022 Ram 1500 For Sale In Ajax, ON At Village Chrysler Dodge Jeep Ram Fiat