Comparing The 2021 Jeep Wrangler vs 2021 Land Rover Defender In Ajax, ON
2021 Jeep Wrangler vs 2021 Land Rover Defender in Ajax, Ontario
To get the best deal on a Jeep, visit us at Village Chrysler, the one-stop-dealer for everything Chrysler. We can help you find the perfect vehicle for your off-roading adventures from our new Jeep inventory. With many models and trims, we are sure that you will find your dream vehicle on our lot.
Jeep Wrangler vs Land Rover Defender: On- & Off-Road
With many trims available for the Wrangler, you can choose the configuration that suits your needs best. The Wrangler has had improvements to become a much better city vehicle, consisting of better interior materials, comfortable seating and better noise isolation. When it goes off-road, that's when the Wrangler shines as it conquers obstacles without any issues.
As for the Defender, it excels on the road by offering a car-like driving experience. The airbag suspension softens the ride and handles city driving pretty well. Getting the Defender off-road is possible but isn't the same experience as you would get with the Wrangler, as you still have to be careful not to damage the suspension airbags.
Jeep Wrangler & Land Rover Defender Fuel Economy
The Wrangler's standard V6 has a fuel rating of 11.8 L/100km in the city and 9.8 L/100km on the highway. Upgrading to the four-cylinder turbocharged engine reduces fuel consumption to 10.7 L/100km in the city and 8.1 L/100km on the highway. These figures are reasonably competitive for an off-road SUV with a 4x4 drivetrain.
For the two-door version of the Defender, you get a standard four-cylinder and an optional V6. You can expect an efficiency rating of 13.1 L/100km in the city and 11.2 L/100km on the highway for the four-cylinder engine. Upgrading to the V6 makes the economy worse at 13.8 L/100km in the city and 10.7 L/100km on the highway. If you desire capability with fuel efficiency, then the Wrangler is your best choice.
2021 Jeep Wrangler Exterior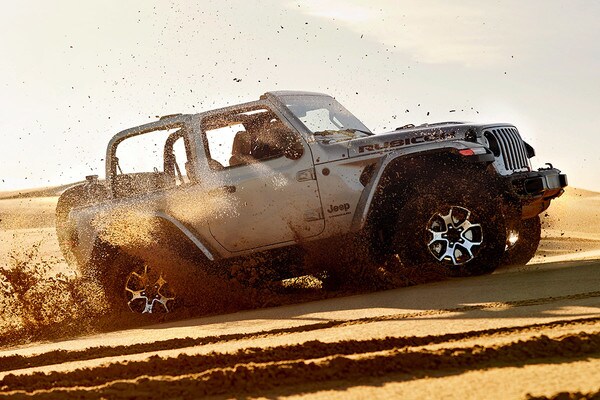 2021 Land Rover Defender Exterior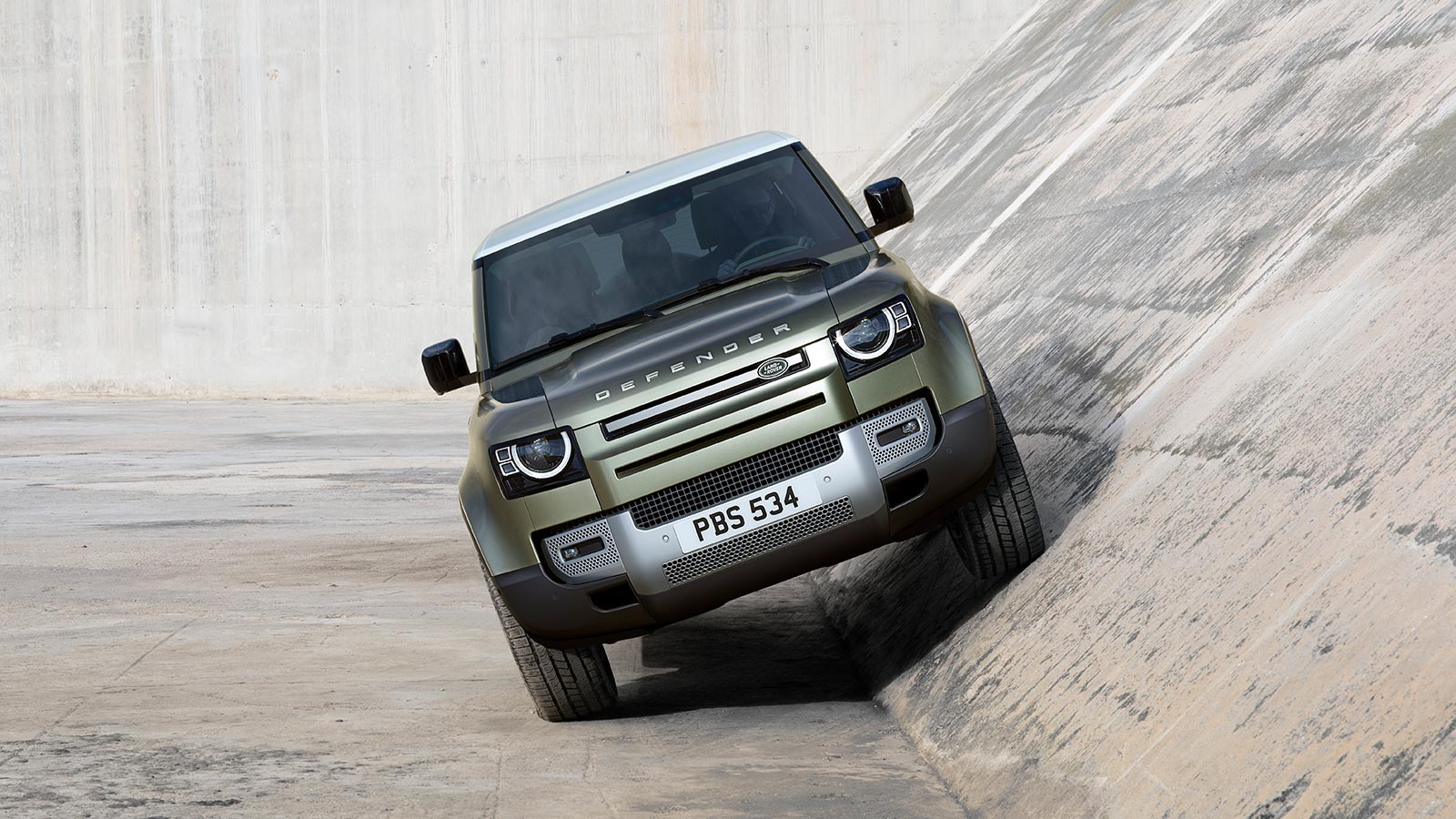 2021 Jeep Wrangler vs 2021 Land Rover Defender: Styling & Design
The Wrangler's exterior looks always follow the rugged, classic Jeep look, all while still being modern and impressive with every release. In 2018, it had a remodel that give it more curves and fender vents, but it still retains the seven-slot grille and aggressive wheel well flares.
When looking at the Defender, you can see some hints of the Land Rover heritage, but its new modernized styling has made it look more like a typical 2021 SUV. The two-door version makes the Defender look pretty odd, and the front-end features a unique design that is an acquired taste.
2021 Jeep Wrangler vs 2021 Land Rover Defender: Infotainment System Comparison
For the Jeep, you can enjoy a high-definition display that's responsive, running on Uconnect software. The 8.4-inch display has large graphics and an intuitive interface to give you seamless operation, similar to using your smartphone device but on a larger scale. Apple CarPlay and Android Auto make playing your music and entertainment a breeze.
The Defender gives you a 10-inch screen, slightly larger than the Wrangler's, but it lacks behind in software technology. It still utilizes the Pivi Pro interface, which fails to use the larger screen's entire surface and is relatively slow compared to modern standards. On the other hand, it still offers Apple CarPlay and Android Auto, which is an improvement.
Financing Options
We invite you to fill out a financing application through our Finance Centre to get customized financing terms that work for your budget. Our finance associates will be happy to walk you through the entire process to get you on the road as quickly as possible. Contact us if you have any questions or inquires about our inventory offerings.
New 2021 Jeep Wrangler Inventory Ajax, Ontario