2021 Jeep Wrangler vs. Toyota 4Runner: Off-Road Face-off
The 2021 Jeep Wrangler vs. the Toyota 4Runner
Find Out Which SUV Off-Roads Best With Village Chrysler Dodge Jeep Ram in Ajax, Ontario
Those with an undying love for off-roading, mudding and rock-crawling will be glad to find out how the new 2021 Jeep Wrangler measures up against a fellow industry fixture in the Toyota 4Runner. Rest assured, as an authority on all things Jeep, the team at our Village Chrysler Dodge Jeep Ram dealer has done its homework. Luckily for avid off-roaders, the latest Wrangler remains one of the ideal SUVs for venturing off the beaten path in 2021. If you're based in Ajax, Ontario or any of the nearby areas of Pickering, Whitby or Oshawa, visit our dealership today and get acquainted with our new all-Jeep lineup.
Performance and Efficiency
Engine Options Abound in the 2021 Jeep Wrangler
It's no secret that power and performance come first with off-roading vehicles, and the latest Jeep Wrangler has that in spades thanks to a handful of available engine options. Whether you prefer a hybrid powertrain, an EcoDiesel alternative or a pure, formidable wallop, the new Wrangler's motor lineup has something for everyone. Leading the stable is its 3.6-litre Pentastar V6 with eTorque, 285 horsepower and the best gas mileage in the lineup, an engine tailor-made for rock-crawling and braving rougher terrain with regularity. The 2021 Toyota 4Runner's engine options, on the other hand, are limited to a single 4-litre V6 motor with less power and highway fuel efficiency than the 2021 Jeep Wrangler's Pentastar V6. In summation, variety is on the latest Wrangler's side, whether you're in the habit of embarking on off-road adventures or not.
Hours
Monday

9:00AM - 8:00PM

Tuesday

9:00AM - 8:00PM

Wednesday

9:00AM - 8:00PM

Thursday

9:00AM - 8:00PM

Friday

9:00AM - 6:00PM

Saturday

9:00AM - 6:00PM

Sunday

Closed
2021 Jeep Wrangler Interior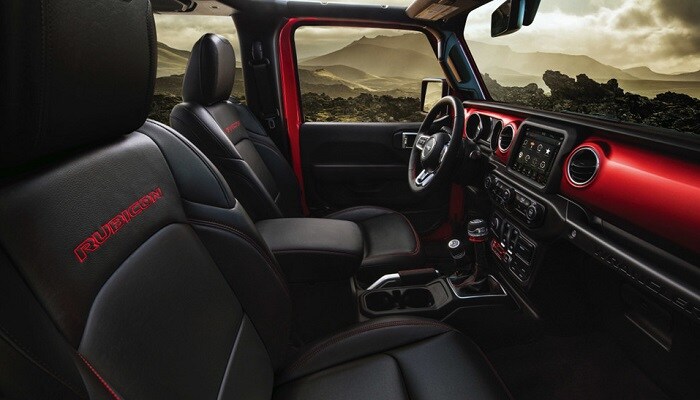 2021 Toyota 4Runner Interior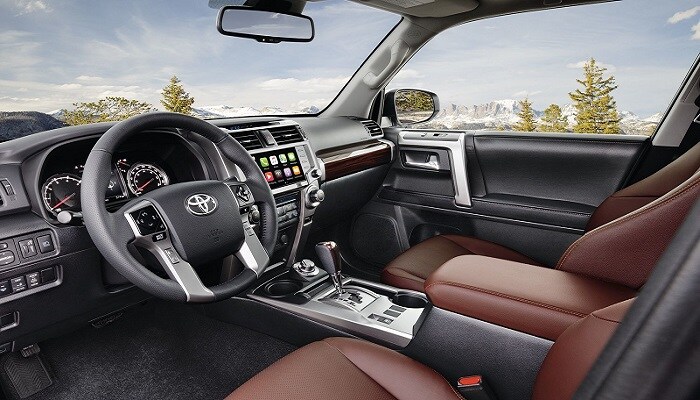 2021 Jeep Wrangler vs. Toyota 4Runner Design Comparison
While most off-roaders will agree that refinement isn't a top priority for mudding, rock-crawling and other related adventures, it appears as though Toyota has maintained that outlook to a fault with the 2021 4Runner. Rugged and adaptable to off-roading it may be, but the latest Toyota 4Runner's design comprises a rather dated cabin and exterior, as well as a rather high cargo floor that makes storage a far more strenuous affair than need be. As for the 2021 Wrangler, Jeep's best and brightest have preserved the long-running SUV's rugged exterior and paired it with a cabin that strikes an ideal balance between comfort and refinement. And if you'd like to personalize your off-road experience, you can equip your 2021 Jeep Wrangler with a removable windshield to ensure the most enthralling of excursions off the beaten path. For more on how to prepare your new Jeep Wrangler for a riveting drive on any terrain, contact us at Village Chrysler Dodge Jeep Ram today. A member of our sales team will be happy to fill you in.
Off-Road Parts and Capability: The 2021 Jeep Wrangler Stands Above the Rest
The Jeep Wrangler has long been heralded as the top off-road SUV on the market, and for good reason. While the 2021 Toyota 4Runner's sturdy frame and adaptability are certainly nothing to sneeze at, its rather clunky drive and lackluster gas mileage can't be ignored. The 2021 Wrangler, on the other hand,  remains a natural off-roader, with the fuel efficiency and performance required to make the most of your off-road excursions. The Wrangler's Rubicon trim in particular has been lauded as best suited for tackling rugged terrain, boasting an electronic disconnecting sway bar, skid plates that handily keep its underside unscathed and electronically locking front and rear differentials that maintain optimal traction in even the harshest of conditions. In other words, the 2021 Toyota 4Runner is only rugged in the literal sense, the 2021 Jeep Wrangler in the practical.
If you'd like to get the ball rolling on your purchase of the new 2021 Jeep Wrangler, get in touch with our dealership's finance centre today. We'll have you off-roading in no time.
2021 Jeep Wrangler Inventory in Ajax, Ontario