2023 Ram 1500 Classic For Sale in Ajax, ON
2023 Ram 1500 Classic For Sale in Ajax, ON
Discover the exceptional
2023 Ram 1500 Classic
in Ajax, ON. The 2023 Ram 1500 Classic has undergone remarkable updates and improvements compared to its predecessor. Experience the power, reliability, and advanced technology of the 2023 Ram 1500 Classic, perfect for tough jobs and comfortable rides in Ajax, Ontario. Ram Trucks have implemented these changes to elevate the overall performance and convenience of the vehicle. As an Ajax resident, you'll find the relevant information below tailored to your needs.
Notable Changes from the Previous Year
The 2023 Ram 1500 is not just another pickup truck, but a symbol of automobile evolution for Ajax, ON residents. Ram has upped the ante this year by introducing the luxury range-topper, the Limited Elite trim.
Performance
The 2023 Ram 1500 has a V6 mild-hybrid engine that delivers 305 horsepower at 6,400 rpm and 269 lb-ft of torque at 4,800 rpm. We rate its fuel efficiency for this model at 12.38L city / 9.8L highway /100km, offering a balance of power and economy. The vehicle also boasts a maximum towing capacity of 11,220 lbs, ensuring it can handle heavy loads.
Design
The 2023 Ram 1500 features a robust and stylish design. Its dimensions reveal a length of 232.9 inches, a width of 82.1 inches, and a height of 77.6 inches, making it a full-size pickup truck. The vehicle's interior design is one of the highest in quality and functionality, even in its fourth year since the complete redesign. The top trims provide an upscale experience with standard features and a rotary shifter.
Technology
Ram 1500's in-car technology is exceptional across all trims. The basic Tradesman model comes with a 5-inch touchscreen and three USB ports. Other trims feature an 8.4-inch Uconnect touchscreen that is user-friendly and includes Apple CarPlay and Android Auto. The vehicle's centre console offers clever, multi-configuration storage solutions. A covered compartment under the rear floor and optional RamBox bins can be added to the bed walls for additional storage.
Safety
The 2023 Ram 1500 has many safety features to protect its occupants. These include anti-lock brakes, front-impact airbags, stability control, side-impact airbags, overhead airbags, and seatbelt pretensioners. It's provided with a security system comprising an ignition disable device, preventing the engine from starting if the driver does not use the original manufacturer key.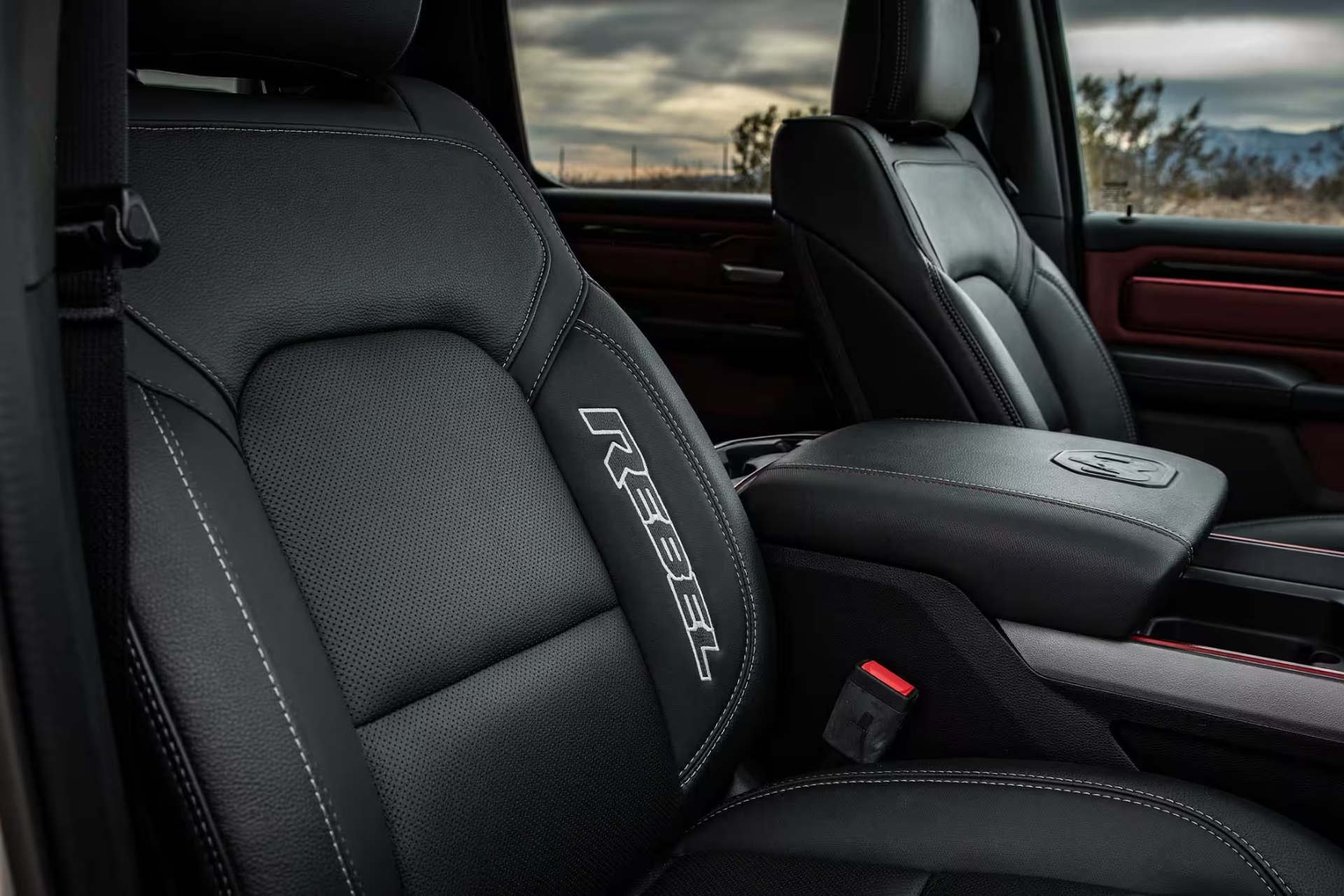 Trim Comparison
When choosing your 2023 Ram 1500 Classic, you'll have several trims to consider, each offering unique features and options. From the basic Tradesman to the Warlock trim, a Ram 1500 Classic suits your preferences and needs in Ajax, ON.
Tradesman
The Tradesman trim has options for both 4x2 and 4x4 drivetrains. The L/100km varies depending on the drivetrain and cab size, but in general, 4x2 configurations get better gas mileage, with 11.7 combined L/100km versus 4x4's 12.3 combined L/100km. There's also a noticeable difference in the engine between different cab sizes. The Crew Cab features a more powerful 395-horsepower, 5.7-litre V8 engine, while the Regular Cab and Quad Cab have a 305-horsepower, 3.6-litre V6.
SLT
The SLT trim offers more variety in terms of configuration, with 4x2 and 4x4 drivetrains and Crew, Regular, and Quad Cab options. The 5.7-litre V8 engine powers the 4x2 Crew Cab with a 6'4" Box, while the rest use the 3.6-litre V6. All versions use an 8-Speed automatic transmission, and gas mileage is like the Tradesman trim, ranging from 17 to 20 combined MPG depending on the specific configuration. The SLT trim also offers 21 exterior colours for most of its arrangements.
Express
The Express trim simplifies things, offering 4x2 and 4x4 drivetrains and Crew and Quad Cab options. The 305-horsepower, 3.6-litre V6 engine powers all versions. Gas mileage here is quite competitive, ranging from 13.8 to 11.7 combined L/100km depending on the drivetrain and cab configuration.
Warlock
Finally, the Warlock trim maintains the 305-horsepower, 3.6-litre V6 engine across all configurations. It offers both 4x2 and 4x4 drivetrains and Crew and Quad Cab options. L/100km varies.
Trim Summary
Overall, the Tradesman and SLT trim offers the most variety, with the SLT featuring more exterior colour options and the Tradesman featuring an option for a more powerful V8 engine. The Express and Warlock trims keep things straightforward with compatible engine options across the board, with slight variations in L/100km and drivetrain options. Pricing also varies widely between the different configurations and trims, with the SLT generally being the most expensive and the Tradesman offering the most economical choice.
Conclusion
The 2023 Ram 1500 is a robust, feature-packed vehicle ready to exceed your expectations. From its engine power and design elements to the advanced tech and safety features, it's clear that this is more than just a truck—it's a lifestyle statement. For those of you in Ajax, ON, the 2023 Ram 1500 Classic is a suitable choice with a mix of power, luxury, and practicality. Perfect for commuting, weekend adventures, or work tasks. A vehicle that's as ready for the work site as it is for a night out in the city.
We invite you to experience the 2023 Ram 1500 Classic at Village Chrysler in Ajax.
Take a test drive
, experience the power and luxury firsthand, and discover why the Ram 1500 continues to be a leader in its class. Whether you're drawn to the power of its performance, the elegance of its design, the innovation in its technology, or the assurance of its safety features, the 2023 Ram 1500 is here to impress.
Contact Village Chrysler Today!