Chrysler, Dodge, Jeep, RAM Service Centre in Ajax, ON
Today's Hours:

7:00am-6:00pm
Why Service with Village Chrysler Dodge Jeep Ram Fiat
Full Automotive Service for Your Ram, Jeep, Dodge or Chrysler Vehicle
From standard maintenance items, to vehicle health checks, to unforeseen repairs, we have you covered. Durham Region, Whitby, Pickering and Oshawa drivers choose to rely on our service team at Village Chrysler Dodge Jeep RAM Fiat in Ajax when to take care of:
Check Engine light diagnostics
A/C service and air filter changes
Brake pad, caliper, and rotor service
Transmission service
Battery testing and replacement
Warranty and recall repairs and information
And more…
Schedule Your RAM, Jeep, Dodge, Chrysler Service in Ajax Today
Keeping up with routine service appointments will make all of the difference in the longevity of your RAM, Jeep, Dodge or Chrysler model, and our team at Village Chrysler Dodge Jeep RAM Fiat in Ajax wants to ensure the well-being of your vehicle. The difference that we make for your car, truck, crossover or SUV over an independent shop is that we have the training to work on your specific model, and work with OEM-approved that are made to the exact specifications of your car. Schedule your service appointment online today.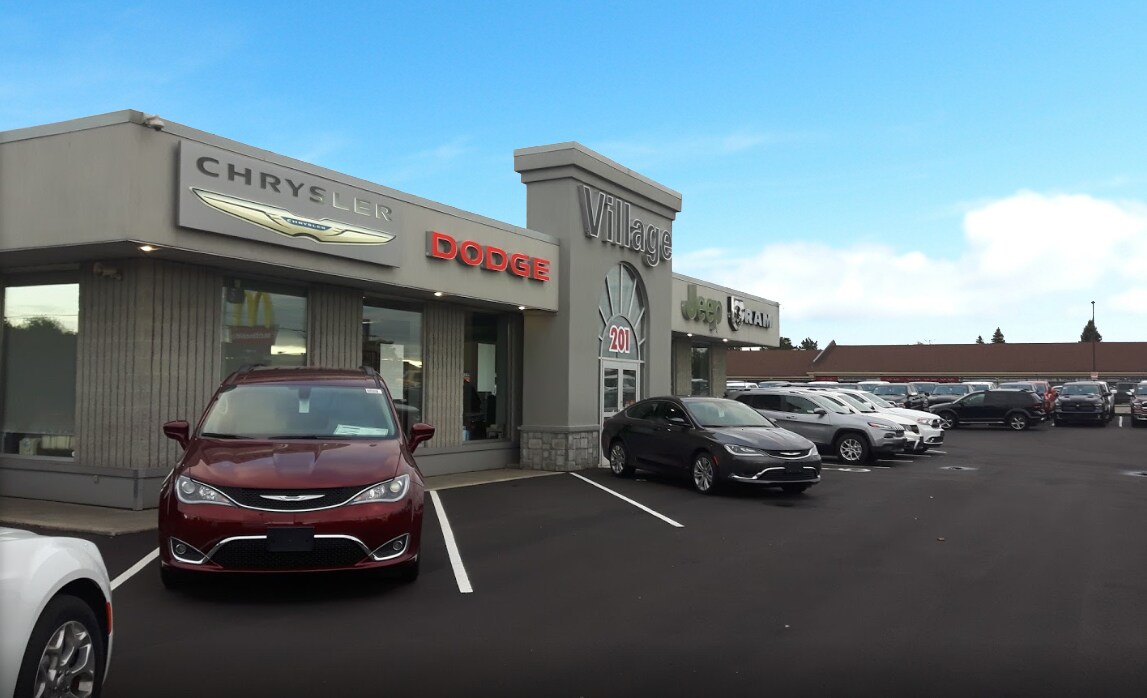 Services Offered at Village Chrysler Dodge RAM Jeep
Taking good care of your car is an integral part of car ownership. No matter what car you drive and how old your car is, it will need to have routine service throughout its lifetime to ensure that it is fit for the road and safe to drive. Maintaining your car properly will ensure it lasts as long as possible, and it makes it possible to sell your car if you decide to buy a new car later on.
Our dealership provides a complete list of services to keep your vehicle in top shape.
Tire Rotation
A tire rotation is a service that your vehicle will need throughout its lifetime. At each service interval, a mechanic will look at the tires and rotate them as necessary to make sure they are all wearing evenly.
Winter Tire Swap
In many regions of Canada, winter tires are essential for driving on snow and ice. Even if they are not mandated by law, using winter tires will make your car safer, prolong the life of your regular tires and keep your insurance rates from skyrocketing. We provide seasonal tires changes to put your winter tires on correctly without disrupting the harmony of your vehicle's system when needed and swap them out again in the spring when the weather gets warmer.
Winter Tire Safety
Since you'll need extra durability and traction in winter, our mechanics will look at your vehicle's winter tires to ensure they are safe for use on the road. That includes evaluating tread depth and surface condition to ensure adequate stopping power and braking performance.
Vehicle Inspection
If your car needs a general comprehensive inspection, our dealership handles those needs as well. Our service department will perform a multi-point inspection on any vehicle to check for any safety issues and outfit your car with the requirements necessary to pass any inspection that is needed.
Oil Changes
Oil changes are one of the most frequent and most important services your car needs. Village Chrysler Service Centre will handle your car's oil change needs and replace the engine filter that is vital for smooth, reliable, and predictable vehicle performance.
We're sorry, we do not currently have any specials published. Please check back soon or contact us for more information.
Village Chrysler Dodge Jeep Ram Fiat

200 Achilles Road
Ajax, ON L1Z 0C5

Contact Us
Reach out to the experts on our team when you're looking for valuable advice, automotive hacks and tips, and to learn more about the services that we can offer your vehicle, contact our friendly dealership today.